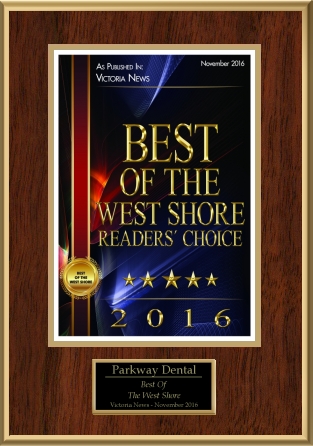 Parkway Dental Voted One of the Best in the Westshore 2016
Best Place to Improve Your Smile
The Westshore community has spoken and Parkway Dental is proud to announce that you found us to be one of the Best Places to Improve Your Smile.
The 2016 Best of the Westshore Awards is a program created in partnership with the Westshore Chamber of Commerce and the Goldstream Gazette (Black Press). Every year, they put out a call for votes from the entire Westshore region of Victoria, BC.
Citizens in our community get to vote on their favourite businesses, places, and things to do. There are many categories ranging from "Best Place to Take a Selfie" to "Best First Nations Business." And of course, "Best Place to Improve Your Smile."
You cast your ballots between a number of respectable dental offices and dentists operating in the Westshore. We're so proud that you named us one of the Best in the Westshore!
See full award results here: https://westshore.bc.ca/bowsa2016/